Terms of Use
Acceptance of Terms
This site is owned and maintained by Surety One, Inc. and/or one or more of its affiliates (the "Owner", "we", "us" or "our") within the Poindexter Surety Group of Companies or Janus Assurance Re (collectively, the "Poindexter Surety Group"). The Poindexter Surety Group is composed of brokerages, agencies, insurance and reinsurance companies that are licensed or otherwise approved to transact insurance and/or reinsurance business in various countries and jurisdictions around the world. This site provides users with access to an online collection of information and materials. These materials may include insurance applications and policy forms and other information related to certain insurance products and services ("Products andServices") offered by providers of insurance and insurance-related services operating within the Poindexter Surety Group. The site also contains text, pictures, graphics, logos, button items, images, works of authorship, and other information (collectively, "Content"), and may provide access to certain proprietary software used in connection with navigating and utilizing the functionality offered through this site ("Software"). Your access to and use of this site (as well as any other web sites owned by Poindexter Surety Group members) are subject to the following Terms of Use, as well as all applicable laws and regulations. Please read these terms carefully. If you do not accept and agree to be bound by any of these terms or conditions you are not authorized to access or otherwise use this site or any Content, Services or Software contained on this site. Your access to and use of this site constitute your acceptance of and agreement to abide by each of these terms and conditions set forth below. These Terms of Use may be changed, modified, supplemented or updated by the Owner from time to time without advance notice. Unless otherwise indicated, any new Products and Services, Content and Software added to this site will also be subject to these Terms of Use effective upon the date of any such addition. You are encouraged to review the site periodically for updates and changes. The information contained on this site is not for use within any country or jurisdiction or by any persons where such use would constitute a violation of law. If this applies to you, you are not authorized to access or use any of the information on this site.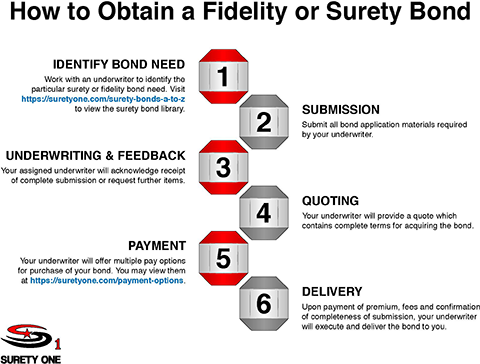 So that there is no confusion about the process for obtaining a fidelity or surety bond, we offer this convenient flow chart to provide transparency on the process.
Access and Content
The Owner hereby grants you a limited license to access and make personal use of this site but not to download (other than page caching) or modify it, or any portion of it, except with the express written consent of the Owner. This license does not include any resale or commercial use of this site or its contents; any collection or use of any product listings, descriptions, or prices; any derivative use of this site or its contents; or any use of data mining, robots, or similar data gathering and extraction tools. This site or any portion of this site may not be reproduced, duplicated, copied, sold, resold, visited, or otherwise exploited for any commercial purpose without the express written consent of the Owner. You may not frame or utilize framing techniques to enclose any trademark, logo, or other proprietary information (including images, text, page layout, or form) of the Owner or its affiliates without their express written consent. You may not use any meta-tags or any other "hidden text" utilizing any of the Poindexter Surety Group or service marks without the express written consent of their owners. Any unauthorized use terminates the permission or license granted by the Owner.
Unless indicated, non-U.S. companies within the Poindexter Surety Group are not licensed or otherwise authorized to conduct business in the United States and do not engage in or transact any business in the United States through this Web Site or otherwise. In certain countries, non-U.S. buyers and their representatives may be able to transact insurance with non-U.S. Poindexter Surety Group companies through web sites that are accessible through this site. Due to various insurance and other regulatory restrictions, certain Products and Services described on this site are not available to all users. Also, Products and Services may vary by jurisdiction and may not be offered by all of the Poindexter Surety Group companies, nor are all Products and Services available or suitable for all jurisdictions.
EXCEPT AS EXPRESSLY STATED HEREIN, THE INFORMATION CONTAINED ON THIS WEB SITE IS NOT AN OFFER TO SELL OR A SOLICITATION TO BUY ANY SECURITY, INSURANCE PRODUCT, OR OTHER PRODUCT OR SERVICE BY THE Poindexter Surety Group of companies. No security, insurance product or other product or service is offered or will be sold by the Poindexter Surety Group companies or, if sold by the Poindexter Surety Groupp companies, will be effective in any jurisdiction in which such offer or solicitation, purchase or sale would be unlawful under the securities, insurance or other laws of such jurisdiction.
FYI: WE ARE NOT YOUR LAWYER!
The pages linked to this portal cite federal, state and local statutes which will be helpful in calculating proper bond penalties and jurisdictional-specific requirements. We provide the content of these pages to be helpful. If you feel that offer of general information about judicial surety bonds replaces the advice of competent counsel, you have misinterpreted our intent. Is there a reason for this disclaimer? Yes, some parties are not willing to accept responsibility for their failure to consult an attorney and would prefer to blame a bonding company that's only purpose is to be helpful. Get a lawyer!